So after a looong time I've decided to come back and start writing this blog again!
A lot has happened and a lot of projects have been started (although rarely finished!). My main project at the moment is a replica of the lovely brown silk dress from the Kyoto costume institute.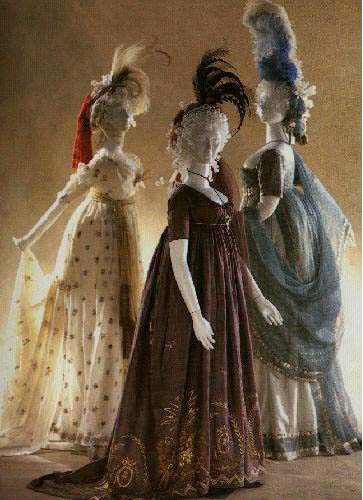 I just love the brown one in the middle and so I'm trying to make a similar one with some lovely dark green silk that I managed to get cheaply a few months ago. So far I've managed to make the bodice but it's hard to tell if it's any good before I sew the skirt on.
Now though, I have to get back to finishing off a jacket I made for my job at the 18th century café. It was originally made for the 12th night ball which I was planning on going to and so it's sewn after me wearing a pair of stays. Now I have to sew a new closure with ribbons to make sure I can wear it without. (Working with stays on is twice the effort!)
I'll probably post some pictures of it later during the week if someone attending the event at Kristinehov tomorrow has a camera. Hope to see some of you there!